Slothunter Casino Mobile Application
The Slothunter Casino App is a perfect fit for gamblers who want to enjoy the exciting games from any location. People generally use their phones more than they use laptops or other devices. This is why so many digital services are now available on mobile devices. Online casinos have followed this trend and have been providing games that are compatible with mobile devices. Our casino takes it a step further by introducing the Slothunter Mobile App as an addition to its existing casino website.
Slot hunter is a leading today because it is constantly developing valuable features that work for its users. With the Slothunter Casino mobile app, gambling has been easier for users. You can access all the online slot games, live dealer games and table games you love on the Slothunter Casino App.
Read through to find out all you need to know about the Slothunter Casino mobile app, then install it and start enjoying the best of mobile gaming from your smartphone.
Installation Guidelines for the Slothunter Casino App
Downloading and installing the Slothunter Casino mobile app follows a simple process. The mobile app is a PWA version of the website. So it cannot be downloaded from your phone's app store. Instead, the casino has made it possible for you to download and install the app with just one click.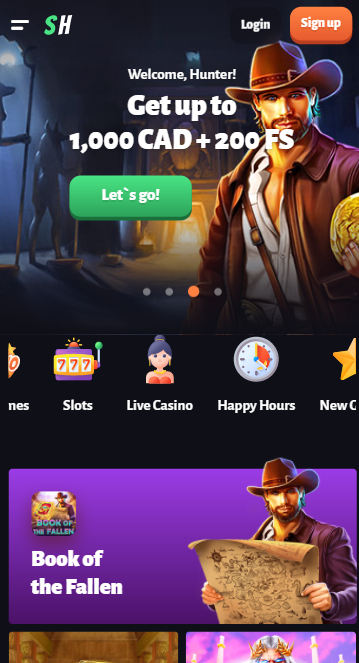 Open the casino website from your mobile device. You will see a prompt to download the Slothunter Casino mobile app on the homepage. Click on the link and grant the website permission to install the app if prompted to do so. Once you have done this, the app will be installed on your device within minutes.
The Slothunter Casino mobile version is not a regular independent app; that is why it was installed on your web browser. You can access the app from your browser, on your home screen or from your phone's app menu. With the app installed, you do not need to use the website's address to access the casino anymore.
How to Use the Mobile Application
You can access the app by tapping the app icon on your phone's app menu, and you can also access it from within your browser. Once you are in the app, you need to either sign in to an old account or sign up for a new one. You need a Slothunter account to use the app to play casino games.
After logging in, you have all the functionality of the Slothunter casino app at your disposal. You can make deposits, play games and do lots more on the app. You can enjoy regular online slot games, and you can also play live games with dealers once you have a good internet connection. The fun doesn't stop, even when you are offline, because you can enjoy your favourite games while you are offline with the app. Note that you will not receive any cash rewards from the games when you play offline.
If you link the app to one of your social accounts, you will be able to connect and compete with friends in the casino.
Overview of the Slothunter Mobile App Interface
As the Slothunter Casino Mobile App is a PWA version of the site, it is designed as an exact copy of the casino website's mobile view. It is also very similar to the desktop view of the website. Gambling fans do not have to worry about any challenges with transitioning from the desktop site to the mobile version. New users would also find the Slothunter casino app easy to use because the app design is intuitive and uses regular app features that they are already used to.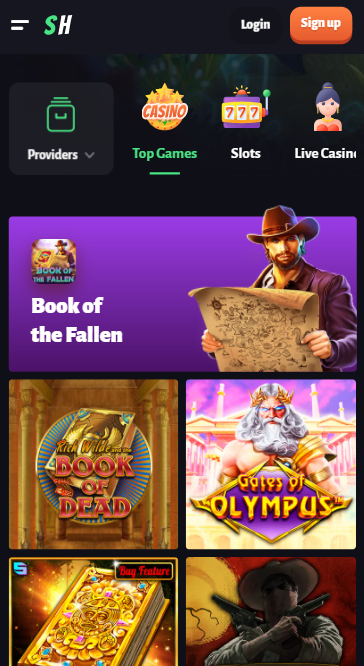 Just like the website, the casino app uses a dark blue background and bright colours on top of it to give it a warm feel. There is a navigation bar at the bottom of the app. So from wherever you are in the app, you can always jump to any of the pages linked to the icons on the navigation bar.
Steps to Register Your Account and Make a Deposit
If you want to make real money playing casino games on the Slothunter casino mobile version, you must register an account with the casino. To register, simply select the Sign-up option on your screen and follow the process provided. You would have to fill in basic details like a password, username, full name, residential address, and other details. Ensure all the details you provide are valid because the casino may attempt to verify them later.
After registering, you have to make a deposit to start placing your real bets. Slothunter Сasino accepts Debit and credit cards, e-wallets and various banking services. Check the payments page to see which service works best for you.
Suppose you run into any issues while completing these processes. Use the customer support feature in the app to contact any of the casino's customer service representatives. After reaching out to them, your issue will be resolved.
Slot hunter Casino Mobile App Bonus
Slothunter Casino has many bonuses to offer gamblers here, and they are available to both desktop and mobile players. Once you are done making your first deposit on the Slothunter casino mobile version, the welcome bonus should be active already. The welcome promotional program can give you a reward of up to 1000 CAD and 200 extra free spins. In addition to these, after you have exhausted your welcome bonus offer, you will have access to the weekly bonuses. They reward you with deposit bonuses, cashback offers and free spins.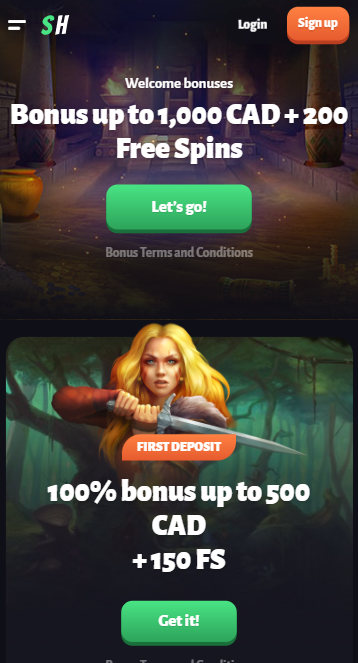 Anyway, read the bonus terms and conditions to learn how to activate the bonuses. Some might require a bonus code, while others only need you to make a deposit.
Security Features
Slothunter has been able to build a broad customer base in Canada by providing a safe environment for gamblers here. The casino prioritizes security, and its licence with the Malta Gaming Authority is proof that the software here is safe and secure. Slothunter Casino uses state-of-the-art SSL encryption technology to ensure that users' data is safe on the app and the website.
Licensed game providers provide the games in this casino. Slothunter only accepts games from licensed providers to ensure that all the games that are available for gamblers through this casino are transparent and fair.
Pros and Cons
The Slothunter Casino Mobile App is a beautiful innovation and would give gamblers an easier means to gamble on their terms. Bettors would also stand a better chance in the casino with the offline free play mode because they would have more room to practice the games before placing money bets.
Nonetheless, the Slothunter Casino App has some downsides. These are some of the advantages and disadvantages.
Pros
Fast and Easy to Use
The casino app is a PWA app, so it is light on the mobile device's memory and works swiftly. The time to input the casino's web address and wait for it to load is gone when you use the mobile app. With one tap, you are in the casino and ready to play.
Play from any location
Once you have the Slothunter Casino mobile app installed, you carry it with you everywhere you take your phone. This means that you can win real money from any location with an internet connection and your phone.
Cons
Extended Mobile use
While gambling is fun and safe, using your mobile device for too long could harm your eyes. The casino recommends that gamblers take breaks when mobile gamblers to reduce the strain on the eyes that come from using a mobile device for too long.
Mobile Device Restrictions
The screen of a mobile device is smaller, and not all gamblers would be comfortable with making money decisions from a small screen. If you can, you should get a bigger mobile device to make you more comfortable while mobile gambling.
Also, mobile devices always have notifications popping up. This could be a challenge for a gambler trying to place complete focus on a game. Gambling involves money, so you should be entirely focused while playing. A standard solution is to use the "Do not disturb" feature to block off incoming notifications for a while.
You can't place bets without an internet connection
When gamblers don't have access to an internet connection, they can still play the games, but they can't win real money while playing. Not all players would have consistent access to the internet, so in such a case, the app's purpose is defeated.